Twin Cylinder Rebar / Steel Frame Cutter

Guzzilla DS Cutter

Ultimate Cutting Force, Weight-saving and Top-class Opening Range
Guzzilla DS Cutter with twin cylinders shows an ultimate cutting force to cut and crush steel inforced concrete structures.
It is a mainstay cutter series of TAGUCHI that demonstrates excellent cutting force at any demolition jot sites.
There are 2 product line-up, DSX series which has a synchronized open/close mechanism, and DX series without it.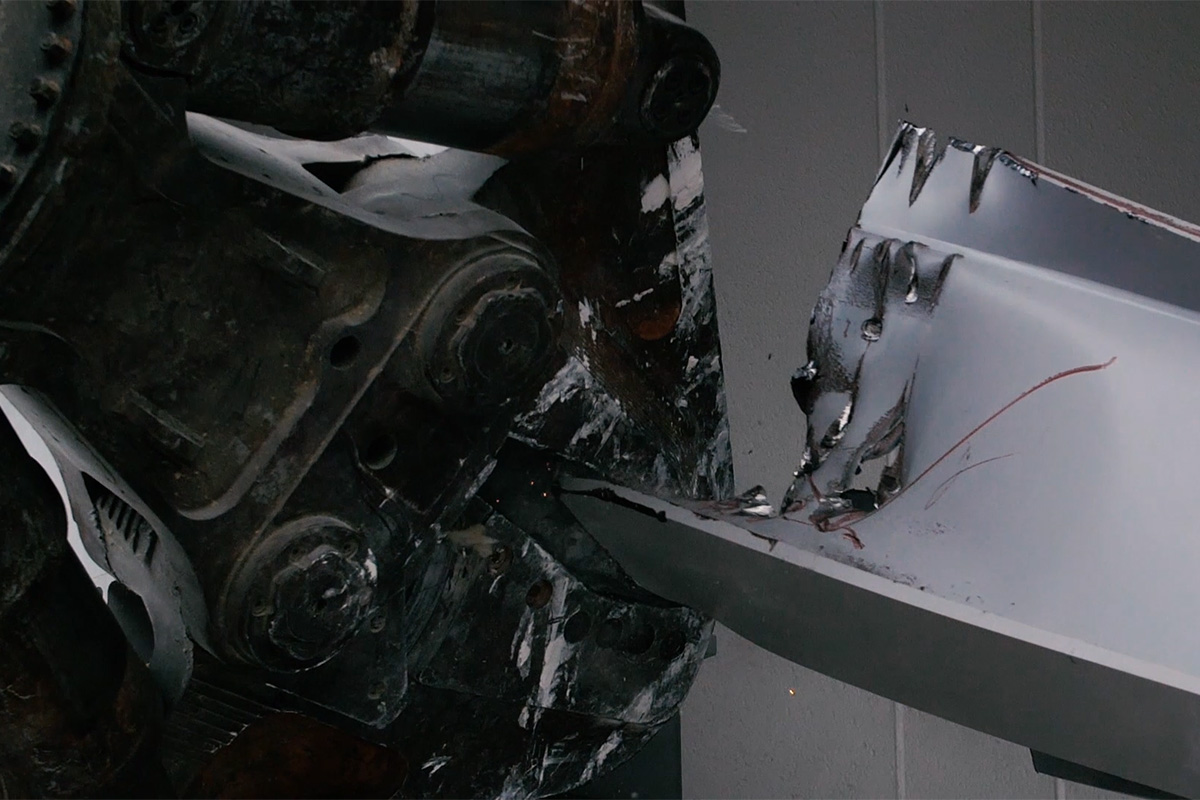 The strongest cutter with ultimate cutting force
and top-class opening range
The main feature is an overwhelming cutting force and a wide opening range by in-house manufacturing twin cylinders. It also realize weight-saving even though it carries a side cover of main frame to prevent demolition debris from getting inside, a cylinder rod cover, and a speed increasing valve (arm closing side) as standard. You can choose one of two types of rotation system, S type (hydraulic rotation) and A type (automatic rotation).
Powerful cutting with a special steel blade
A special shaped cutting blade cuts into the object sharply and make delicate works possible, such as making holes in the steel frame. The tip side blade can be used on 2 sides reversible and the bottom side blade on 4 sides reversible. By using special steel material only for Guzzilla cutter, it can cut any thin or thick materials such as steel frames, reinforced steel bars and cables. The DSX series is a model that has a synchronized open/close mechanism, and it is possible to cut and crush the object in the center of the jaw. DX series without synchronized open/close mechanism is also available.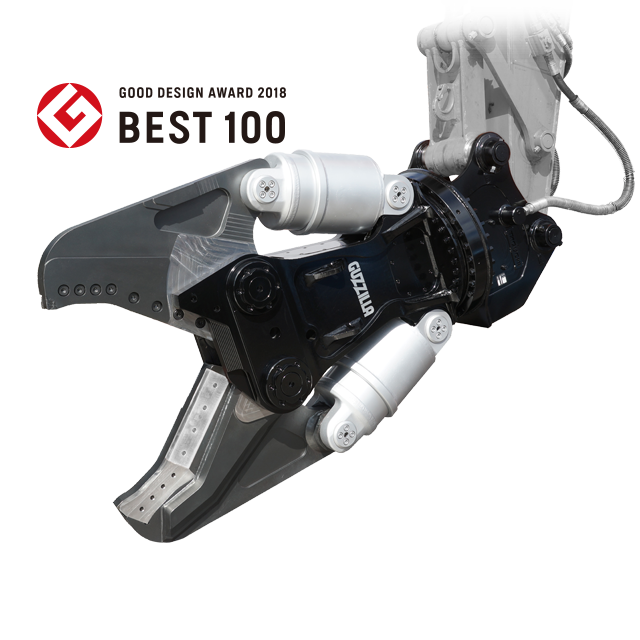 Good Design Award and Special Award 2018
Winning Model
At Good Design Award 2018 in Japan, Guzzilla DS Cutter won the "Good Design Awards Best 100". Furthermore, TAGUCHI was awarded the "Special Award/Good Focus Award", which is given to excellent designs that have been particularly highly evaluated by the Judges Committee.
Model Name
Rotation type
Class of excavator[ton]
Max. Operating
pressure[MPa]
Length A[mm]
Max. jaw opening B[mm]
Min. jaw opening C[mm]
Cutting blade length(bottom side + tip side) D[mm]
Tip cutting force E[kN]
Center cutting force F[kN]
Mass[kg]

DX-36

S
3 - 4
24.5
1000
250
-85
165+103
247
365
270
A

DX-42

S
4 - 5
24.5
1310
375
-110
205+155
323
500
440
A
450

DX-62

S
6 - 8
27.4
1540
505
-120
260+175
431
627
810
A

DX-135

S
12 - 14
31.4
1910
700
-145
325+210
759
1100
1530
A

DX-202

S
20 - 22
31.4
2230
835
-190
400+260
1000
1470
2460
A
2470

DX-302

S
30 - 37
31.4
2560
1010
-210
450+310
1260
1880
3780
A

DX-402

S
40 - 45
31.4
2740
1100
-260
500+345
1340
2000
4640
A
・Double two-way hydraulic pipes are required for S type (However, drain piping is required when the back pressure of the rotation line exceeds 2 MPa for models other than DX-36S, DX-42S) .
・Single two-way hydraulic piping is required for A type (Rotation may not be possible when the operating pressure is low) .
・We recommend reinforcing the arm of a hydraulic excavator that has the Guzzilla series installed.
・The attachment cannot be installed on a hydraulic excavator of a different class.
MOVIE
Introducing Twin Cylinder Rebar/Steel Frame Cutter "Guzzilla DS Cutter" | DSX/DX | English
Products of TAGUCHI Industrial have received a 2018 Good Design Award!
Introducing Twin Cylinder Rebar / Steel Frame Cutter "Guzzilla DS Cutter"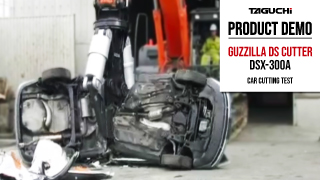 Product Demo | Guzzilla DS Cutter | DSX-300A | Car Cutting Test